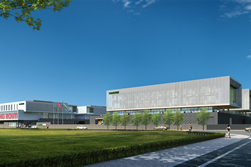 WEDU is a subordinate enterprise of Hengdian Group founded in January 2009, aspiring " promoting healthcare with deep research and precise manufacture" as its obligation. WEDU has been working in close cooperation with Chinese Academy of Sciences and some other research institutes as well as companies since its foundation, focusing on R&D, Production and distribution of biomedical implantable materials as well as downstream medical products.
WEDU has successfully developed serial biodegradable polymer materials, such as medical polylactic acid (PLA) and polylactic acid - glycolic acid (PLGA), etc. Our implantable medical products will be used in orthopedics, general surgery, orthopedics, neurosurgery and other clinical departments. Strictly in accordance with EN ISO9001, EN ISO 13485 and CFDA medical device manufacturing quality management system, WEDU is always supplying reliable products with the highest standards of quality.
The company upholds "Patient-oriented, quality leading, Innovation and win-win basis" as its spirit, dedicating to the direction of "specialized, sophisticated, unique, advancing". We are building an national brand of medical devices in the field of biomaterials and achieving the benefits of our patients.